After all the planning, talking, and excitement, the wedding was two weeks ago yesterday, and we have been Mr. and Mrs. Keith Forrester for 15 days. It was wonderful, and Keith and I both owe a sincere "thank you" to all of you who helped, who traveled, or who came out to wish us well.

It was truly the best day of my life to have so many friends and family all gathered together as Keith and I pledged our love to each other. The ceremony was beautiful and moving to me, and I think to most of those there, and then the reception was a time to come together and celebrate. I don't know that I've ever had so much fun.

The only regret that we have is not having more time to visit with our friends and family. But, it just wasn't possible, and I think it bothered you much less than it bothered us. I calculated that if we spent one minute talking to every guest that would have been 4 hours and 10 minutes, which wouldn't have left any time for cake cutting, bouquet throwing, serenading, or dancing, and Oh! the dancing!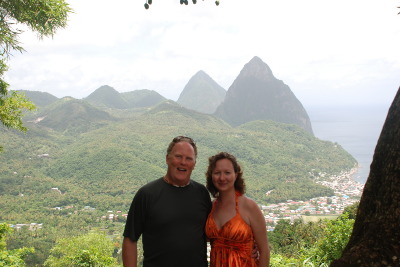 On Monday after the wedding, we left for our honeymoon in St. Lucia. It was everything we wanted – relaxing, restful, and plenty of things to do (snorkeling, kayaking, wine tasting) without leaving our beautiful resort – Ti Kaye Village. I highly recommend it to anyone, as long as you don't mind a little walking – there were 168 stairs to the beach. But, I was glad for the exercise after the wonderful food and the frozen fruity drinks at the beach bar.

Now, we're home and staying in our "city house" in Decatur while trying to sell the "country house" in Canton.

Our wedding day was a long time coming for both of us, but I can definitely say it was worth the wait, and we can't wait for what's next.