Rev. Randal Barnhart is now the Senior Pastor at Johns Creek Christian Church in Johns Creek, GA. In February he left Peachtree Christian Church where he served as Associate Pastor and where he'll graciously return to help Sumarie and Keith begin their lives together.. After having served churches in North Carolina and Georgia, Randy came to PCC to work in the areas of Adult Education, Community Service, Young Adults and Singles, and Evangelism. He holds an undergraduate degree in religion from Atlanta Christian College, a master's degree in theology from Emmanuel School of Religion, and a law degree from Georgia State University.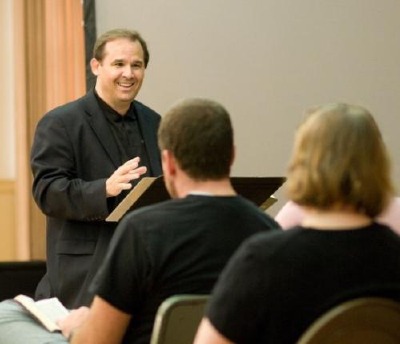 Instrumental in the development of the LIFE Group ministry at Peachtree Christian, Randy's passions include small group ministry, evangelism, preaching, baseball and golf. He is an active Board member of the European Evangelsitic Society.

Randy has been married to the former Wendy Waites of Roswell, GA. for 28 years. God has blessed them with the gift of two sons, Andrew and Benjamin.

Reverend Tom Harris, Interim Senior Minister

Rev. Tom is the intentional interim pastor of Peachtree Christian Church. He received his Masters of Theology degree from Dallas Theological Seminary and has been a pastor for 25 years.

For the past ten years, Tom has specialized in intentional interim ministry and church consulting. He has served 8 churches in 10 years as interim, serving churches in North Carolina, Arizona, California, Nebraska and now Georgia.

Rev. Harris' mission, as interim pastor, is to prepare the church for its future. He is undertaking this task by leading a church-wide self-study, forming a ministry development team that will discover and articulate the church's mission, vision and values and strategic plan for the future.

In his free time, Tom likes to tour Atlanta and the Southeast, play golf, watch sports, and eat seafood.

Note: The above information was shamelessly lifted from the Peachtree Christian Church website.