Both Sumarie and Keith will bring children into this relationship to form a less traditional Brady Bunch of sorts.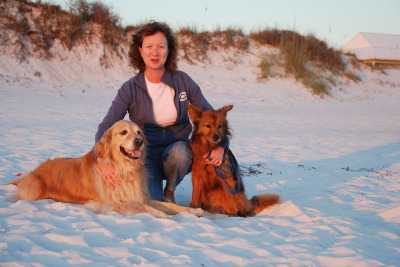 Zuzu is Sumarie's 14 year old mix. Her blue tongue indicates there is some Chow in her, and from time to time her attitude helps confirm it. Her patience with Keith's dog is very limited when Libby gets too excited, but her attitude is elevated to ambivalent when they spend more time together.

Libby (Liberty) is a 4-1/2 year old Golden Retriever who was patriotically born on the 4th of July. She has never met anyone she doesn't want to jump on, and that frightens some people. The truth is she's 100 lbs. of pure love who wouldn't hurt a thing. Libby is equal in her ambivalence towards Zuzu because she would much rather spend time with people than other dogs. She knows Zuzu is the boss and she's perfectly fine with that...as long as someone will just pet her!