Born January 12, 1967, Sumarie spent all of her early years in one small town. Lanett, Alabama was her only address prior to college, and her mother, Lana, and grandmother, Lothair (or Grandmama), still call it home. Sumarie graduated from Lanett High School and then moved just down the road to attend college at Auburn University. War Eagle!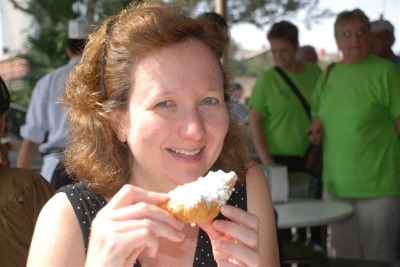 Sumarie majored in Math but on fall weekends you would find her on the football field playing clarinet in the Auburn University Marching Band. After graduation, she moved to Tallahassee, Florida for graduate school at Florida State University. In 1990, Sumarie left Florida to make her home in Atlanta. Her first job was as a Statistical Analyst at a credit scoring company then called MDS. After a brief stint there, and an even briefer stint at Sprint (hence forward referred to as the Sprint Stint), Sumarie joined the nonprofit world as a Marketing Analyst with CARE, the international relief and development organization.

Six years were spent at CARE before Sumarie moved on to her current job with Grizzard Communications. She continues to do fundraising for non-profits – now with The Salvation Army as her key client. In March, Sumarie will celebrate 10 Years with Grizzard.

Sumarie's family has always been very close. Her sister Amy, brother-in-law Bobby, and twin nephews Allen and Davis have lived in Birmingham for the past 11 years. That has just recently changed as they've embarked on a new adventure with a family move to Fort Worth, Texas.

Sumarie returns to Lanett often to visit her mother and grandmother and they, in turn, are regular visitors to Atlanta. In May of 2007, Sumarie lost her dear father, Marion. She misses him terribly, but knows he is watching down over her.

Sumarie is very involved with the Peachtree Christian Church (Disciples of Christ) where she is a longtime member and serves as a deacon. In her spare time she likes to hike with her dog Zuzu, travel (especially to the beach!), play her piano, read, watch movies and explore all the great restaurants Atlanta has to offer!!

And these days, her favorite thing to do is simply spend time with her wonderful husband, even if it means watching a LOT of NFL football.