Born January of 1962 in Beaver Dam, Wisconsin, Keith moved around a bit as a child. He was the perennial "new kid in town" as he attended four kindergartens (one of them twice) as the family moved from Wisconsin, to an apartment in Southern California to a town house and then back to Beaver Dam before the year was out. Things continued like that for a while. First grade started in Beaver Dam and finished in Kendallville, Indiana. Second started in Indiana but finished in West Chicago where third grade started only to finish in Allentown, Pennsylvania. Things settled there for a bit through 9th grade but high school was ultimately finished in Libertyville, Illinois.

After a freshman year at Fort Lewis College in Durango, Colorado, Keith finished college and graduated from Iowa State University then returned to the Chicagoland area where he lived and worked until 2002 when he relocated to the Atlanta.

In his work life, he's had a series of jobs with the first as a paper boy delivering the Morning Call in Allentown. Stints as a boy and young man at McDonalds, barn destruction and reclamation, light construction and firewood chopping, valet parking, and delivery boy led to his first "real" job writing for the Sears catalog and working in the Sears Tower. After four years, he left and sold insurance for about five minutes before finding a job with Grainger where he spent 11 years in the catalog business and the early years of the internet business. Another short stint at a dot-bomb called Transora has been followed by the last seven years with Coca-Cola Enterprises in Atlanta.

Keith has an incredible network of friends and relatives with his immediate family at the heart of it all. His Mother and Father, Gretchen and Roger, make their home in the Gold Rush area of Northern California in the town of Murphys. His oldest brother, Kevin has spent his entire adult life in the San Diego area where he lives with his wife Kim. They are very close to being empty-nesters as Keith's newly graduated niece, Courtney, searches for her first post-university job and nephew Cody is attending Georgetown University. Keith's younger brother, Karl, lives in Montecito California where he is raising his fantastic nine year old son Justin.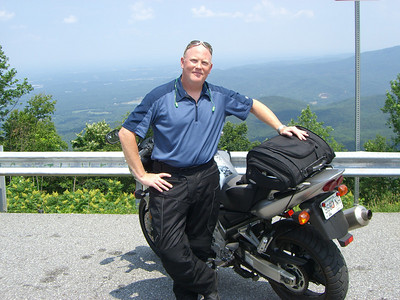 For recreation Keith likes to hike and play with his dog Libby, snow ski, travel just about anywhere, and spend time on his motorcycle. He also likes to golf and play tennis but hasn't found time for them in quite a while and doesn't do either very well. His most important connection to his childhood is his lifelong attachment to the Green Bay Packers (an attachment that has been tested this past year). One of Keith's great joys is his relationship with his "Little" Brother Ryan. He and Keith have been friends since Ryan was seven. He's now 13 and they have the Big Brother program to thank for matching them so many years ago. Keith's favorite days of the month are every other Tuesday when he gets the chance to take an extended lunch and spend it delivering Meals-on-Wheels to Cobb County Seniors.

Keith is now most thankful for the love of Sumarie. He looks forward with great anticipation to their life together and to adding more paragraphs to the story above.

Keith thinks it's odd to write about himself in the third person.